iziCOUNT Tabletop Game counter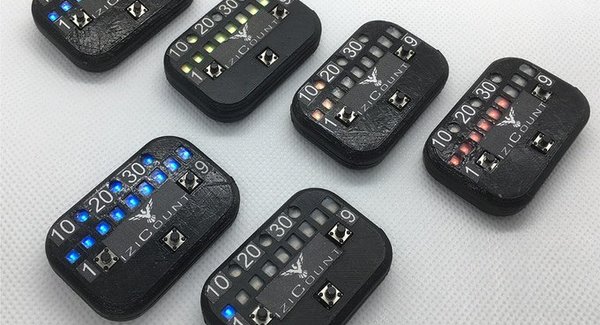 iziCOUNT is a point counter, it simply replaces or completes all the score and point scoring tools of the tabletop games.
Finally, a tabletop game counter that anyone can use I've designed iziCOUNT to be the first led tabletop game counter yet. 
There are some great tokens out there - but none as smart and simple as iziCOUNT. This all-in-one counter is ready to use. Other tokens will not only be small, hard to read, they will also easy to loose and only the player can see his score. This is the counter a kid could use, but also anyone who has problems to see close up. We assemble the electronics, we assemble the hardware, we design the firmware... you just have to use it! 
It comes in the form of a small case, with a luminous display on the front panel based on coloured LEDs. 3 buttons allow you to interact with iziCOUNT. 
We need your support to scale production 
Anyone can research and build one of electronic device, but it WILL be time consuming, complex, confusing, difficult for beginners and expensive. We have brought game counter down to the beginner level and a better price point simultaneously. How?! Well, that's where you come in. The only way to produce assembled, cutting edge electronics is to order a lot of them. The same logic applies to all the parts. We need your support to scale production. 
The goal: a counter in every home, on every tabletop game box 
This kickstarter will do more than fund a single project. This project will launch a business in pursuit of the dream of "a counter in every home". We have reduced the complexity of these counter, but will soon focus solely on pushing the price of these counter to the absolute lowest sustainable retail price. 
Please, help us change the world of tabletop games. Every little bit helps. 
Thank you for your support!

Projet terminé
Sur Kickstarter
Liens externes